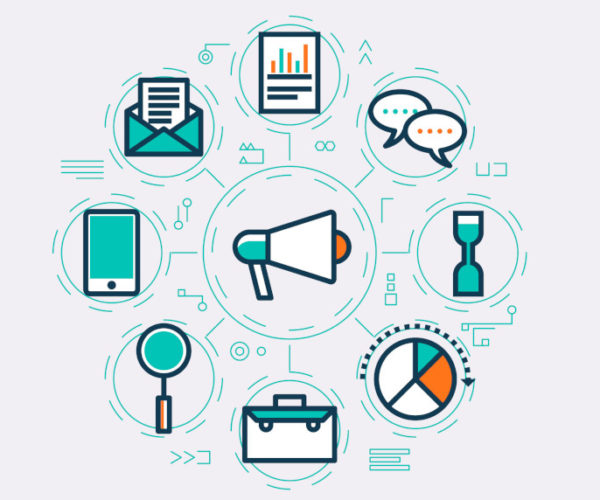 What is Digital Marketing?
Digital marketing is the technique for promoting your products using digital media, mainly on the Internet, but also includes digital channels such as the search engines(Ex: Google, Yahoo, Bing), social media(Ex: Facebook, Twitter, Instagram), email and mobile applications. Digital marketing also referred as online marketing or internet marketing or web marketing.
Google Analytics
If you want to increase the users' engagement i.e. to increase time on site, page views, repeated visits and last but certainly not the least, improved conversion rates. It will be good for you to utilize Google analytics on your site for tracking your business KPIs on daily, weekly, and monthly basis.
Types of Digital Marketing
Digital marketing solutions can play a decisive role in improving your business growth. It enhances the chances of successful interaction with the customers. Better conversion will lead to better revenue generation.You can enhance your coverage with its help as it can easily target the mobile consumers. Though, you should understand that things can't change with blink of an eye. You need to give time to the proceedings.
Email Marketing
A good quality email marketing program consists of designing, campaign management, reporting, and integration with the Google Analytics.
SEO
A productive search engine optimization strategy helps in improving the keywords ranking and it automatically increase website traffic and conversion.
Directory Submission
Experts can help you submitting your business details to the leading local business directories. Local SEO helps you to reach your customers at the time they need you.
Video Advertising
Display and video advertising can help in dragging the targeted audience closer to your products and services. Management of ad network is essential for the success of campaign.
Google Analytics allow you to check how the visitors are being driven towards your site. You can utilize wide ranging tracking stats without spending any money. If you have a Gmail account you can sign up for an account on Google Analytics.
You can grab complete details about the traffic flow via visual chart. This traffic flow chart provides each and every detail like bounce rates, frequently visited pages by majority of traffic, number of visitors visiting the subsequent links etc.
You can get information about popularity of a particular page of your website. Google analytics help you to know about your site's most popular pages. This information can help you to improve the quality of such pages and ultimately increasing your sales volume.
You can see detailed information about the most eminent countries and regions visiting your website. It will allow you to create customized advertising ort content to drag more number of visitors from such eminent countries and regions.
Check your Website Issues and Optimize it for faster performance from our SEO Analyser tool